The Childhood Agricultural Safety Network (CASN) is a coalition of organizations that work together to help keep children safe on the farm. These organizations represent the agricultural community, child injury prevention, minority-serving associations and related industry organizations.
CASN In-Person Dinner Meeting
Co-located with the International Society for Agricultural Safety and Health (ISASH) Conference.
We welcome all CASN members, as well as any ISASH members who are interested in child ag injury prevention.
Join us for the dinner this year, and you can enjoy some additional entertainment for free (waived cover charge – see below).
Date: June 25, 2018
Time: 6:00 p.m. – Reception with cash bar
6:30 p.m. – Meeting begins
9:00 p.m. – Meeting ends
Location: Lower Deck (meeting on 2nd floor –at the Beer Market) – this is next door to the Halifax Marriot (ISASH Conference Hotel)
Cost: A contribution of $30 USD (~$40 CD) per person is requested to offset the cost of the meal, as no grant funds can be allocated for this event.
Do not send check/payment in advance. Plan to pay by check or cash at the event.  We will issue a receipt for you at that time.
Free: Shaydid will be hitting the stage at 9:30 p.m. in the Pub (just walk downstairs, this is the bottom floor). Crystal, the lead singer, "has a big personality and even bigger voice". The band specializes in cover songs from today's hits to songs from the 80s. As part of your dinner, the cover charge to see this band will be waived. To catch a glimpse of the band, visit https://www.youtube.com/watch?v=ar6S8hvVxuQ.
Please RSVP before June 14, 2018 to Kathie Smith at smith.kathleen@marshfieldresearch.org, and include any dietary restrictions or allergies.
An agenda will be sent prior to the meeting. If you have questions, please don't hesitate to contact Marsha Salzwedel at salzwedel.marsha@marshfieldresearch.org 
____________________________________________________
Protecting the future of agriculture
 
August 14-15, 2018
Marshfield, WI

YOU CAN MAKE A DIFFERENCE
Join us and learn how you can help safeguard children and youth who live, work and play on farms and ranches. This information can be used to develop and enhance childhood agricultural safety strategies for your organization. 
Hosted by: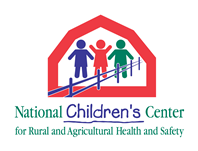 Click here for more information and to register for the workshop.
---
Does your 14- or 15-year-old youth want to work in production agriculture?
If they are working off of the family farm or ranch for hire and will be operating tractors or machinery, they need to successfully complete a Hazardous Occupations Safety Training in Agriculture program.  The National Safe Tractor and Machinery Operation Program (NSTMOP), available through Penn State University, is a national program that provides locally led training by county extension educators, high school agricultural educators, or other safety professionals.
For more information about NSTMOP visit www.ntmop.psu.edu or call 814.865.7685
---

I didn't KNOW
In the U.S. about 40,000 children under the age of 16 are treated in emergency departments for ATV-related injuries each year.
ATV riding is not child's play.